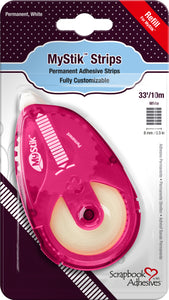 MyStik Permanent Strips Refill (33')

33'/10m of 3/8"/1cm pre-cut strips allow adhesives to be applied in curves and circles or adhere the tiniest of die-cuts and embellishments. 

Mix & Match any MyStik® Refill with all MyStik® Dispensers!
Decorate and personalize
Choose from 3 different positions ensuring that MyStik® fits your comfort or purpose!
Built-in adhesive protector unlike any other dispenser. When closed no fibers, scraps or glitter can come in contact with adhesive.