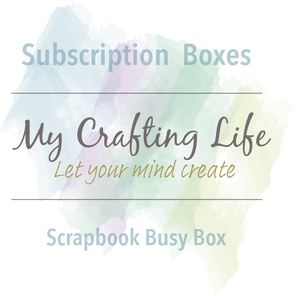 We are offering a fun and exciting Busy Box each month!  You will receive your box mid-month with fun items to help you to "Make Memories Come Alive!" We will do the creative work for you and you just have to read, cut, and assemble, then add your favorite memories!  
Included Monthly:
1- 12x12 Kit
1- ephemera
Misc Cardstock
3 die cuts for your kit layouts and cardstock layouts (or more!)
12- page ideas using kit, die cuts and ephemera included in the box
2- cardstock layout page ideas using cardstock and die cuts included in the box
Bonus project items each month
Bonus cut file with page ideas using it!
An idea booklet with photo and directions on how to build the pages and bonus items. 

You're worth it!  Subscribe to your Busy Box today!
Subscriptions will be charged monthly on the date you registered for it. Each month will have a different theme each year per month. Bonus items will change month to month. Different vendors will be used throughout the year. You never know what the actual kit is till you open your monthly box!
Yes, SHIPPING IS INCLUDED in the price. Need additional items that match what's in your Busy Box?  Check our the collection with this months add-ons. 

When you pay for your box, the month you pay for it is the box you will receive. So if you buy a box on April 10, then you'll get April's box. If you buy a box on April 28, then you still will get April's box.  Please email us with any questions at kelly@onestopcropshop.com.
Boxes ship mid-month.  We only have a limited supply for each month, so sign up today!  You can cancel at anytime. Your card will be charged on the day you signed up each month for the following month.