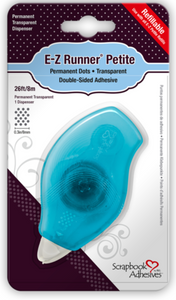 The E-Z Runner® Petite Refillable Dispenser is a high value adhesive in a small size. It's ergonomical and petite shape are easy to hold with ridges and dimples for finger placement. Drop in refill cartridges allow for 1-step refilling with no winding or threading.
Refills feature an unbreakable liner for consistent, fast and smooth adhesive application. Permanent Dots are initially removable with the swipe of a finger before they turn permanent. Non-stringy and dry application allow for a quick and clean project.
The E-Z Runner® Petite and its Refills are value priced and perfect for travel, scrapbooks, and cards. Keep them handy at home, school, office and in your planner bag.
Wear Your Adhesive on the Outside and create your own custom embellishments using adhesives directly with Metallic Transfer Foil, glitter, embossing powder and more.
The clear liners are unbreakable, and all Dispensers and Refills are recyclable.
Product Features
26ft x 0.3in of translucent permanent adhesive dots
Compact lightweight dispenser measures 3.5in x 1.8in
Ergonomical shape
See through case
Built-in Adhesive Protector
Easy to Refill
Precise application for intricate cuts, curves, and lines
Initially removable with the swipe of a finger, then creates a permanent bond
No drying time
Great for planners, home, school & office projects
Embellish to Wear Your Adhesive on the Outside
Archival Save, Acid-Free and Lignin-Free
Suggested Retail Price $2.99
Refill with E-Z Runner Petite Permanent Dots Refill
To refill: Remove label from refill. Press the button at the top to open the casing at the hinge. Lift the refill to remove. Position new refill. Close the casing. Recycle the refill