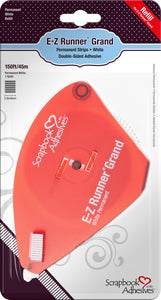 E-Z Runner® Grand Permanent Strips Refill 150ft
Easily refill the E-Z Runner® Grand dispenser with this drop-in refill cartridge. No more threading, winding or wondering if you got it right. 
Permanent Strips of white double-sided adhesive, our most popular adhesive, now available in a 150ft refill for the E-Z Runner Grand Dispenser.
Permanent Strips are an adhesive versatile enough for use in home, office, school and crafts.
150ft x 0.125in wide strips of permanent, white, double-sided adhesive
Easy to refill - no winding, threading or waste!
Dispenses fast and smooth
Easy to use in long lines, curves and circles
Great for short lines and detailed application too!
Unbreakable clear liner
Refills are recyclable
Archival Safe and Acid Free